Earl Dreeshen, Member of Parliament
Red Deer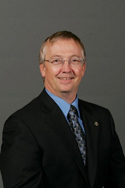 Earl was most recently elected in 2015 as the first ever Member of Parliament for the riding of Red Deer – Mountain View. Previously, Earl served two terms as the Member of Parliament for Red Deer following his successes in the elections of 2008 and 2011.

Earl currently serves as Vice-Chair of the Standing Committee on Industry, Science and Technology. He previously served as a Member of the Standing Committees on Agriculture, Health, Public Accounts, Ethics, and Aboriginal Affairs. Earl is also experienced in Parliamentary Diplomacy and has served as a Canadian delegate for ParlAmericas, the Asia-Pacific Parliamentary Forum, as well as the Parliamentary Association for the Organization for Security and Cooperation in Europe. He was also selected to be part of the delegation for the Governor General's state visit to China and Mongolia because of his recognized background in agriculture and education.

Earl has been acknowledged in the community as a long-time volunteer and advocate. He served for many years as chair of the Elnora Hospital Board as well as the Eltrohills Health Advisory Committee, where he worked to improve local health care. Earl has volunteered for local community groups, such as the Crossroads Agricultural Society, Pine Lake Hub Community Center, Howell's Lake Community Club and the Pine Lake Curling Club. Earl also has served as treasurer for his local community church.

Earl holds a Bachelor of Education degree from the University of Alberta and taught Mathematics at the Innisfail High School for 34 years, retiring in June 2008. Over those years, Earl devoted his time and expertise to working with area youth, coaching football, fastball, track and field, volleyball and minor hockey, both inside and outside of school.

Earl and his wife Judy are proud to be fourth-generation farmers and life-long residents Central Alberta. Together they have two grown children, Megan and Devin, along with two grandchildren, and own and operate a family farm near Pine Lake, Alberta.

In Parliament, Earl has earned a reputation as a strong voice for the hard-working people of Central Alberta. He brings this work ethic to the House of Commons every day, always defending the interests of his constituents.