COVID-19 Updates
May 22, 2020
* NOTE: As information is rapidly changing, the below details were accurate at time of issue. Information may change quickly. Please refer to https://www.canada.ca/en/public-health/services/diseases/coronavirus-disease-covid-19.html  for the most up to date details.
Official Global Travel Advisory and Returning Travellers
Unfortunately, Canada was delayed closing the borders, but after repeated calls from the Opposition Conservatives and medical experts – the government closed borders in March 2020.
If you are a Canadian abroad and require help, please consult https://travel.gc.ca/travelling/health-safety/covid-19-security
Travellers returning to Canada should check https://www.canada.ca/en/public-health/services/diseases/2019-novel-coronavirus-infection/latest-travel-health-advice.html#f for the most updated information on mandatory quarantine.
---
Federal Financial Support for Businesses and Individuals
The financial response has been fluid as the government continues to operate without proper parliamentary oversight. As the Official Opposition we have identified a great number of wholes in the response leaving vulnerable Canadians in difficult situations.
We have had success on a number of fronts in closing those gaps and will continue to bring your concerns forward as they come up. Here is a brief summary of some of the most common programs – but as these programs are constantly being tweaked, I encourage you to go to https://www.canada.ca/en/department-finance/economic-response-plan.html for the most recent information.
---
For Individuals (CERB)
The main program for individuals is the CERB. This is available for $2000 for up to 4 months for those who have lost their job or stopped working due to COVID-19. Details on how to apply can be found here https://www.canada.ca/en/services/benefits/ei/cerb-application.html
Unfortunately, we have heard reports that as many as 200,000 applications have been red flagged as possibly fraudulent. As Official Opposition we are asking the government to review these applicants to stop paying fraudulent claims. So far the Liberal Government has given no indication that they will investigate until over a year from now.
---
Employment Insurance
Information about Employment Insurance related to COVID-19:
The federal government has established a phone line dedicated to inquiries regarding EI claims related to COVID-19.
Questions related to EI and COVID-19 can be directed to this line for assistance and information:
1-833-381-2725
This is a dedicated line for those looking to apply for EI benefits because you have had to self-isolate and cannot work, you are an employee or employer looking to apply for financial support through the EI Work-sharing program, or you have been laid off due to COVID-19.
Information is rapidly changing, I will continue to endeavour to provide the most up to date information to constituents as soon as it is made available.
Link for more details: https://www.canada.ca/en/employment-social-development/corporate/notices/coronavirus.html
---
For Students
The Canada Emergency Student Benefit (CESB) provides financial support to post-secondary students, and recent post-secondary and high school graduates who are unable to find work due to COVID-19.
This benefit is for students who do not qualify for the Canada Emergency Response Benefit (CERB) or Employment Insurance (EI).
For more details please visit https://www.canada.ca/en/revenue-agency/services/benefits/emergency-student-benefit.html
---
For Business
There are a number of measures designed for businesses. We are still hearing from many businesses who are falling through the cracks based on arbitrary lines drawn by the federal government.
If you believe you are falling through the cracks of a program and a tweak to the program can help your business survive – please let my office know.
CEWS and Wage Subsidy – there are two programs designed to help employers keep people employed. CEWS offers a 75% subsidy on employee wages if your business has experienced an eligible reduction in revenue. Visit this site for details https://www.canada.ca/en/revenue-agency/services/subsidy/emergency-wage-subsidy.html
The 10% wage subsidy applies to businesses who do not meet the criteria for CEWS. More details can be found here https://www.canada.ca/en/revenue-agency/campaigns/covid-19-update/frequently-asked-questions-wage-subsidy-small-businesses.html
CEBA - The Canada Emergency Business Account (CEBA) will provide interest-free loans of up to $40,000 to small businesses and not-for-profits, to help cover their operating costs during a period where their revenues have been temporarily reduced. This program has been implemented by banks and credit unions in collaboration with Export Development Canada.
Business owners can apply for support from the Canada Emergency Business Account through their banks and credit unions.
https://ceba-cuec.ca/ for more details.
CERCA - the Canada Emergency Commercial Rent Assistance (CECRA) for small businesses. This program will lower rent by 75 per cent for small businesses that have been affected by COVID-19.
The program will provide forgivable loans to qualifying commercial property owners to cover 50% of three monthly rent payments that are payable by eligible small business tenants who are experiencing financial hardship during April, May, and June.
The loans will be forgiven if the mortgaged property owner agrees to reduce the small business tenants' rent by at least 75% under a rent forgiveness agreement, which will include a term not to evict the tenant while the agreement is in place. The small business tenant would cover the remainder, up to 25% of the rent.
Impacted small business tenants are businesses paying less than $50,000 per month in rent and who have temporarily ceased operations or have experienced at least a 70% drop in pre-COVID revenues. This support will also be available to non-profit and charitable organizations.
Applications will be accepted through the Canada Mortgage and Housing Corporation website beginning on May 25. https://www.cmhc-schl.gc.ca/en/finance-and-investing/covid19-cecra-small-business
---
Other Helpful Links:
Alberta Response to COVID-19:
https://www.alberta.ca/coronavirus-info-for-albertans.aspx
Canada Public Health:
https://www.canada.ca/en/public-health/services/diseases/coronavirus-disease-covid-19.html
Alberta Health Services:
https://www.albertahealthservices.ca/
---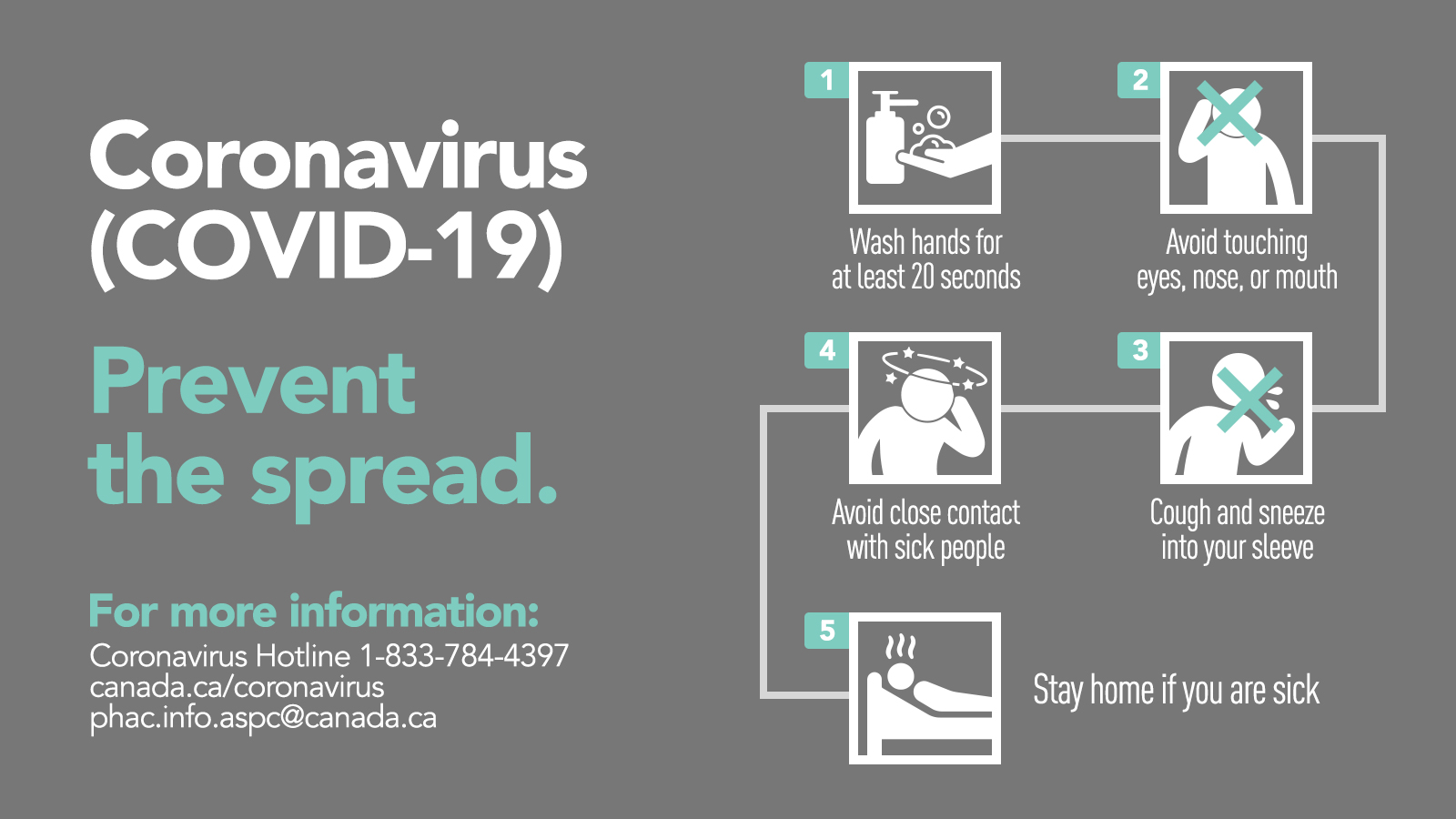 ---
Know The Facts About Coronavirus (COVID-19)

While diseases can make anyone sick, some Canadians are more at risk of getting an infection and developing severe complications due to their health, social and economic circumstances.
Vulnerable populations may include:
Anyone who is:
· An older adult
· At risk due to underlying medical conditions (e.g. heart disease, hypertension, diabetes, chronic respiratory diseases, diabetes, cancer)
· At risk due to a compromised immune system from a medical condition or treatment (e.g. chemotherapy)
Anyone who has:
· Difficulty reading, speaking, understanding or communicating
· Difficulty accessing medical care or health advice
· Difficulty doing preventive activities, like frequent hand washing and covering coughs and sneezes
· Ongoing specialized medical care or needs specific medical supplies
· Ongoing supervision needs or support for maintaining independence
· Unstable employment or inflexible working conditions
· Social or geographic isolation, like in remote and isolated communities
· Insecure, inadequate, or nonexistent housing conditions
For more information on Coronavirus as we learn more about it, please refer to https://www.canada.ca/en/public-health/services/diseases/2019-novel-coronavirus-infection/prevention-risks.html?topic=tilelink