Bill C-444 Becomes Law
June 20, 2014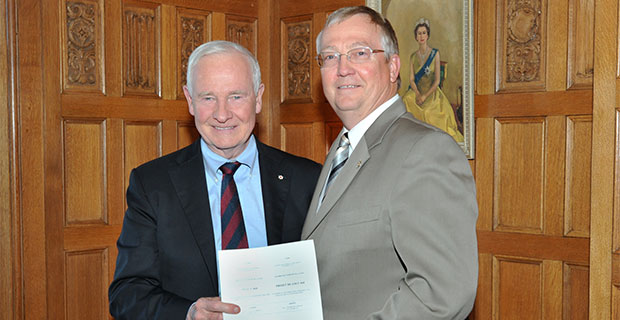 I am extremely pleased that my Private Member's Bill has officially become law," said Dreeshen, who previously introduced similar legislation in October 2010 which ultimately died on the order paper. "I have received a tremendous amount of support from my colleagues in all parties in the House of Commons and the Senate, as well as from the public safety community and every day Canadians."
Dreeshen introduced Bill C-444, An Act to Amend the Criminal Code, on September 27, 2012. The purpose of the bill is to establish that personating a peace officer or a public officer to commit another offence shall be considered by a court to be an aggravating circumstance. Personating an officer is currently punishable up to a maximum of five years imprisonment under Section 130 of the Criminal Code. Aggravating circumstances cause judges to impose longer sentences up to respective maximums.
Bill C-444 passed through both chambers with unanimous, all-party support.
Dreeshen has passionately spoken many times in the House of Commons in support of victims of crime and of the importance of persevering the public's respect and compliance for officers. He is happy that serious crimes where personating an officer is used to facilitate or enhance a crime will now be viewed under a sharper lens.
For victims of crime, this bill highlights the seriousness of maintaining confidence in public officers. It further acknowledges that for some victims, without the deception of an individual personating a public officer, they would never have been put into a situation where they become victims in the first place.
Bill C-444 went through the rigorous parliamentary processes over the past couple of years. It passed three readings in the House of Commons along with Parliamentary committee presentations before facing the same scrutiny in the Senate. After receiving Royal Assent earlier today, Bill C-444 has become one of a select few Private Member's Bills in history to change the Criminal Code of Canada.
The complete text of the bill and its proceedings can be found at: http://www.parl.gc.ca/LegisInfo/BillDetails.aspx?Language=E&Mode=1&billId=5580878&View=0