Supporting Publishing in Alberta
December 18, 2014
Themes & Variations receives Government of Canada funding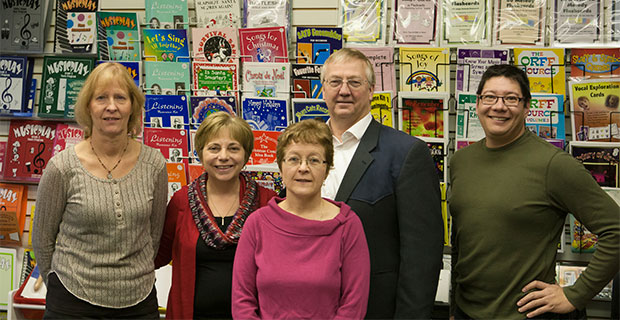 December 17, 2014 Red Deer - Themes & Variations will receive $94,864 from the Canada Book Fund. Earl Dreeshen, Member of Parliament (Red Deer), made the announcement today on behalf of the Honourable Shelly Glover, Minister of Canadian Heritage and Official Languages.
The funding will help Themes & Variations deliver on its commitment to provide quality Canadian-authored teaching materials, including more of its music theory, recorder methods and listening materials, for young Canadian and international students.
Quick Facts
Themes & Variations is one of Canada's largest publishers of music-related curriculum material for students from kindergarten to Grade 6.

Themes & Variations was among the regional winners of the 2014 Small Business Challenge Contest sponsored by The Globe and Mail and Telus Corp.

Through the $39.1-million Canada Book Fund, Canadian Heritage provides support to approximately 300 Canadian book publishers and industry organizations every year.

Publishers in Canada generate more than $2 billion in revenues every year and employ around 9,000 Canadians.
Quotes
"Our Government is committed to ensuring music students everywhere have access to a broad range of Canadian-authored teaching materials that improve the quality of teaching in our communities."

—The Honourable Shelly Glover, Minister of Canadian Heritage and Official Languages
"Red Deer's Themes & Variations is an excellent model for publishers hoping to realize interactivity on various platforms in today's competitive and dynamic Canadian book industry."

— Earl Dreeshen, Member of Parliament (Red Deer)

"Themes & Variations gratefully acknowledges the support received from the Government of Canada. We are a small educational publisher committed to providing quality, affordable curriculum resources for elementary school music programs. This grant will allow us to continue to keep our materials affordable for schools and to increase awareness of our products in the USA and overseas. The grant will help us to take our K-6 music curriculum online as a subscription website."
—Denise Gagne, President, Themes & Variations
More Photos:

Associated Links
Canada Book Fund
Themes & Variations